Top Christmas Party Planning Tips
It's never too soon to be thinking about Christmas and here at the Webbington Hotel & Spa we are busy planning our seasonal surprises. Time is of the essence especially when it comes to planning a Christmas party, the earlier you start organising things, the better. With this in mind, we have decided to give you a helping hand and have created our top tips to help plan the perfect festive party.
Choosing the Venue
Everyone knows that the best Christmas party venues (the ones with great dance floors, heated outdoor areas and perfect seating arrangements) get booked up well in advance. So, do your research and if you see something you like, book it! Making a decision will save you the stress of hunting at the last minute and prevent you from being lumbered with somewhere less than perfect for your celebration…
Check out our party venues in Somerset.
Plan Ahead
Christmas is a busy time and no matter how important you think your party might be, there are plenty of festive frolics to fill people's calendars. Let your guests know the date well in advance so that they can pencil you in. Being able to provide a date to the venue caterers and entertainment will help with the planning process.
Festive Food
Christmas is a season for the senses and people will be expecting a delicious spread, so have in mind what you would like to feed your guests. Ask whether your venue provides in-house catering or, if you prefer, whether they will let you bring in your own caterers, and remember: there will always be guests with special dietary requirements and those who will require non-alcoholic beverages at drinks receptions, so be sure to cater to their needs too. As one of the finest hotels near Weston-super-Mare we offer a range of bespoke catering options to ensure you throw a showstopping event.
Entertainment
No Christmas party is complete without the dulcet tones of Slade ringing in your ears in the taxi ride home, but make sure you hire a good DJ who has plenty more to offer than festive melodies and overplayed chart toppers. Also, think outside the box with your entertainment; magicians, burlesque dancers or fire eaters are always great options to help capture the imaginations of your guests.
After The Party
As the celebrations get under way and the mulled wine flows, it is easy to forget how your guests will get home. Make sure you know where the local taxi rank is and include it on the invitation. If people are coming from afar, it might be worth choosing a hotel as your venue of choice, giving guests the choice to stay the night. The option for guests to stay over has made the Webbington Hotel & Spa an increasingly popular choice as a Christmas party venue in Somerset.
The key to throwing a successful and memorable Christmas party is the finishing touches. From festive fragrant candles, to personalised table favours and Secret Santa gift giving, will all help to make you party stand out from the crowd.
Looking for hotels in somerset to hold your Christmas party? View more information on our party venue.
Want the party but not the planning?
We have an exciting selection of party and theme nights for December 2019 at the Webbington Hotel & Spa.
Make the 2019 Christmas party season one to remember and join the festive celebrations at the premier Somerset venue for parties with added sparkle. To book your own Christmas party or attend any of our events, please call us on 01934 750 100 or email us.
View our Christmas Entertainment and Party Menus here!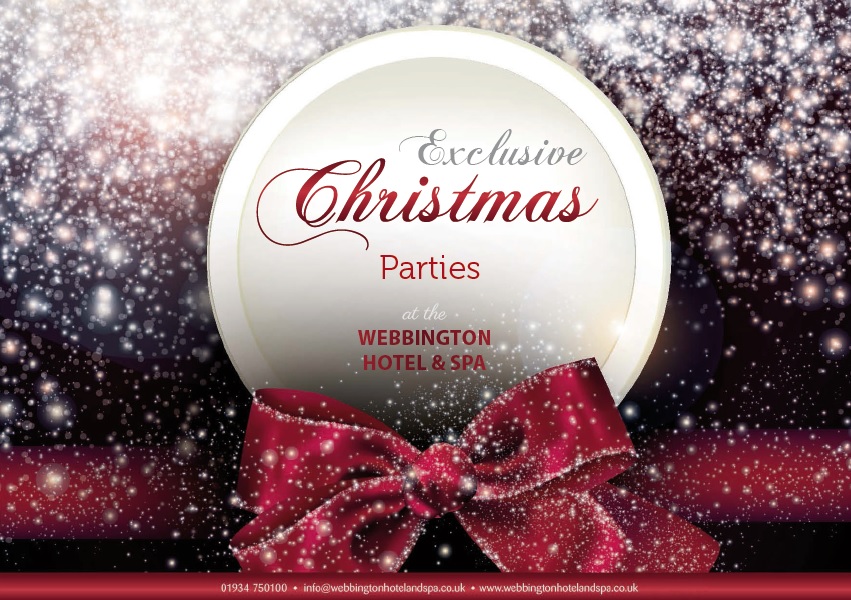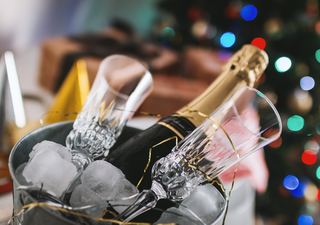 Like to plan ahead? Stay organised and save on party planning with our early bird rewards.
Read more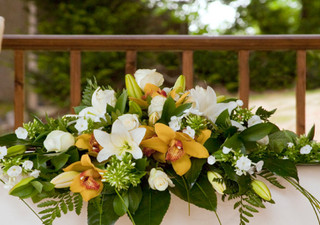 Webbington Hotel and Spa have an exclusive mid-week wedding package - You can get married for just £1,750* based on 50 guests for the ceremony, wedding breakfast and evening reception.
Available Sunday through to Friday in this stunning Somerset wedding venue.
Read more